We spent part of the 4th of July taking a car tour of Cuenca neighborhoods with Jeff. Jeff is an expat married to an Ecuadorian woman. He has been in Cuenca for about 4.5 years, speaks decent Spanish, and unlike many gringos, has a van, and drives.
We were joined by Stephen, from Atlanta, who was also down here on an exploratory tour to determine if he and his wife want to live here.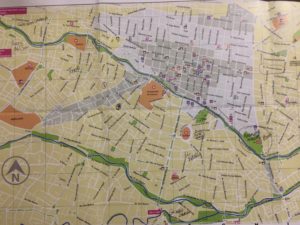 We started the tour by driving to the top of a mountain to a lookout point with an overview of the neighborhoods. From there we had a spectacular view of all of Cuenca. Jeff pointed out the different areas and the good and bad points of each one. We drove back down and started our neighborhood tour.
There are eight main neighborhoods that we toured in Cuenca and here's what I remember.
Don Bosco
This area is located in south Cuenca and the Rio Yununcay. It's also the furthest from El Centro, the main part of Cuenca. The northeast corner of the area is newer with more high rises indicating to me a mostly gringo area.
It's a mixed area with local and gringos blended so you may see whole pigs being roasted on the sidewalk. The newest Supermaxi grocery store is also in this area. Overall, I thought this was an okay area, with its dingy sections. The best part of it is the river park that borders it on the north side. The Rio Yununcay is a picture of beauty and has walking trails on both sides along its entire length. My understanding is that housing is a bit less expensive here.
El Vergel
This area is bordered by Avenue Solano on the west, the Rio Yununcay to the south and the Rio Tomebamba to the north. This is where most of the medical centers are located and some more upscale restaurants and cafes outside of the El Centro area. You can pretty much find everything you need within walking distance here. There is also a Supermaxi in this area. It's a favorite of gringos but still a very mixed resident area. There are some nice casas and high rise apartments located here.
Monay
This is the east side of Cuenca with more houses and local neighborhoods. House prices and rentals are less over here and it has its good sections but is not located near many amenities. A cab would be necessary to get to grocery stores and restaurants.
Solano
Solano is a great area if you want to be centrally located to everything. It's near the university and El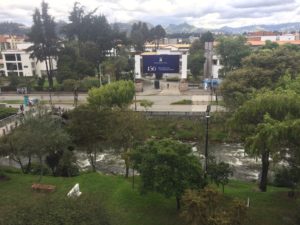 Centro is just across the Rio Tomebamba. Because of this, it also has a lot of traffic, which in Cuenca translates into a lot of vehicle exhaust in the air (read my previous article to see what the city is doing to remedy this). There is less when you get into the side streets, but it is still a heavy traffic area. There are some nice homes and apartments. There are plenty of places to eat and hang out, including the busy Calle Larga area just across the river.
El Centro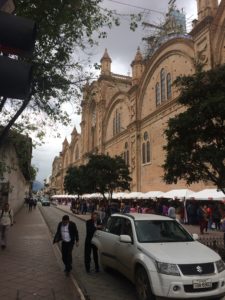 This is essentially the historic district of Cuenca with a little bit of everything to offer, within walking distance. It also has the most traffic and people congestion. When you get into the main historic district with its jaw-dropping architecture, you forget all about that. It's a classic small city which happens to have some of the most beautiful historic buildings in the world. If you like the city life, entertainment, nice restaurants, music, and shops, this is your place. It's busy!
Gringolandia
Coined by the gringos, not the locals. It's an area west of El Centro that has a high concentration of high rises occupied by a high concentration of gringos. It is not a particularly appealing area to me but is nicely located near El Centro, but far enough away for a little peace and quiet and there is a Supermaxi in the area. If you don't speak any Spanish, you'll find lots of company here with the same problem. While I didn't like the area, Stephen, our van mate found it the most appealing. This is why there is no one right area in Cuenca to live. One advantage to this side of town is that the new tram (tranvia) will go through here when it's completed. The area is also close to the feria libre, the local market.
Puerto del Sol
A more upscale area bordering Gringolandia on the south side of the Rio Tomebamba. It is primarily residential with little to no cafes or tiendas (shops) nearby. You could walk to El Centro from here.
Los Totems
Designated this because of the three totems situated in the middle of the main traffic circle. This is the area our AirBnB was in. It's a very busy area with lots of traffic, thereby lots of exhaust fumes when you're on the main drag, Remigio Crespo. The neighborhoods have some nice homes and some not so nice homes. It's a very mixed area, but walking distance to about everything you need. Our AirBnB was less than a block off the main street and we found it very quiet, safe, and peaceful. The exhaust fumes from diesel cars and buses took their toll on us after a few days of walking down the main street, so we started taking side streets to avoid them. When the buses start out, they emit a large black cloud of fumes and soot that is not pleasant to be near.
In conclusion, my favorite area was El Vergel. I like it's proximity to everything and it still has its more remote, lower traffic sections. In particular, having a large dog, I liked the sections near the Rio Yununcay. It's nice to have a short walk to a stretch of greenway with a river running through it. I also found the air around that part of town to be more refreshing with no exhaust fumes and quieter streets.
UPDATE SEPTEMBER: El Vergel was voted best neighborhood in the Gringo Post "Best of Cuenca 2018" Voting
Please follow and like us: