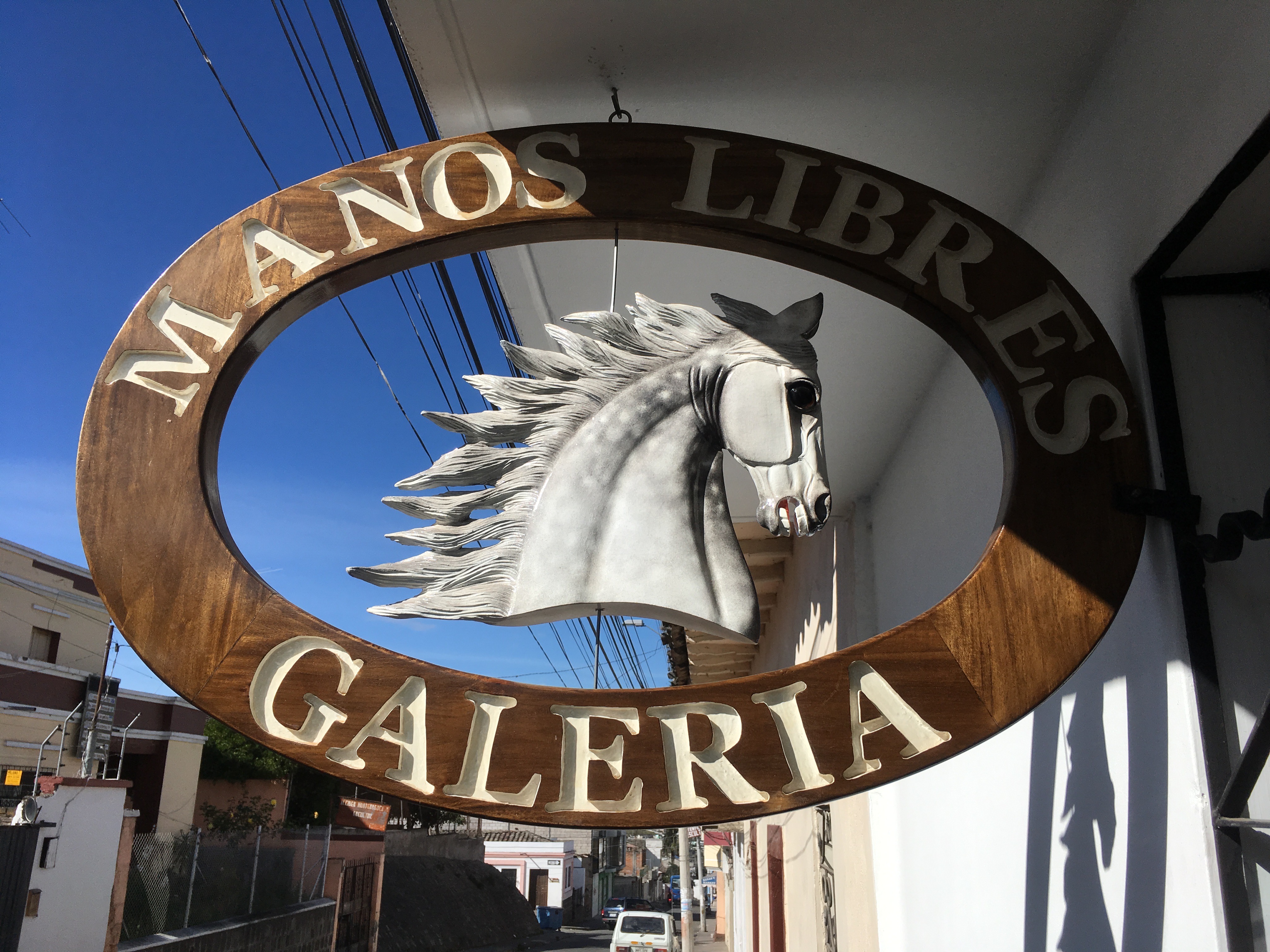 Small towns in Ecuador each have their own unique specialties. Meaning, they focus on one craft and become a destination for that particular craft. We are staying in a town famous for it leather work, but there are other towns nearby and elsewhere in Ecuador that specialize in woodworking, weaving, pottery, guitar making, and more.
Cotacachi – Leathergoods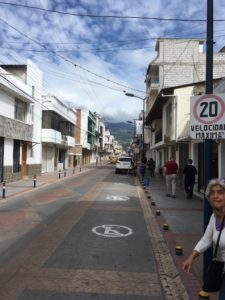 The most popular street in Cotacachi is Leather Street. That's not the official name, it's what it generally referred to because of all the leather shops lining the street. These shops are filled with leather jackets, vests, purses, pants, and assorted accessories, all, to my knowledge, made in Ecuador. The quality of these products is outstanding. You can buy a leather jacket in just about any color you can imagine. You can find leather shoes that are locally made. You can even watch them being made. It's refreshing to see shoes made this way, and not imported from China.
San Antonio de Ibarra – Woodcarvings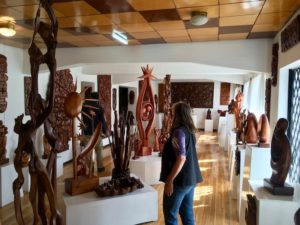 In San Antonio de Ibarra, at the edge of the provincial capital of Ibarra, woodworking is the specialty. Shops and parks are filled with sculptures and carvings large and small. There are shops filled with exquisitely handmade furniture. There are a number of large, older sculptures around the area that are relics of past competitions without a home.
Even the park benches are hand carved.
One particular carver, Luis Potosi, is world famous for his carvings, and one tour through his shop and you can see why. Our friend here has two of his carvings on her condo wall.
This towns offerings are an example of why you don't need to bring furniture to Ecuador if you move here. The beauty and selection offered here far surpass anything I have seen in the US.
San Bartolome – Guitars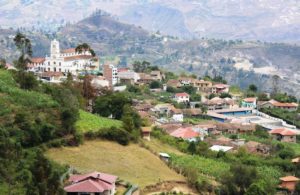 Dating back to the Spanish colonial period of least 200 years ago, guitar making in the small town of San Bartolome, Ecuador has been a family tradition. The skills of the trade are passed on from one generation to the next. One of the more famous guitar making families is the Uyaguari family. They make everything from guitars to mandolins. You can buy guitars directly from the makers or at sidewalk vendors in the Iglesia de San Francisco park area.
Peguche
& Iluman- Weavings

Peguche & Illuman, Ecuador, are both located near the major town of Otavalo, famous itself for its large outdoor market. Both are famous for their master weavers. Many of these weavings are sold at the Otavalo market. Most are woven from alpaca wool and acrylic fibers colored with natural dyes.
Montecristo
& Cuenca- Hats
Panama hats are made in Ecuador, not Panama. They're handmade by local artisans in two unique towns, Cuenca and Montecristi from the straw of the palm like toquilla plant. The hat was made famous by Theodore Roosevelt when he appeared in a New York Times photo wearing the hat during a visit to the Panama Canal which is how it came to be called the Panama Hat.
Ambato – Fruits & Flowers
Ambato, Ecuador is famous for its Festival of Fruits & Flowers. As you drive through town, the main street is lined with small booths selling bouquets of flowers.
These are just a few of the small towns in Ecuador with their own unique specialties. There are many more as this country is full of craftsmen and artisans. What I loved most is that you can buy directly from these artisans and craftsmen, in their workshops. During our visit to San Antonio Ibarra, we got to meet and talk to Luis Potosi, the most renowned sculpture in this town. He is well into his later years but still works in the shop with his family. We met another man who carves beautiful horses in his studio/workshop. The craftspeople of these unique Ecuador towns are amazingly talented and personable.
Please follow and like us: