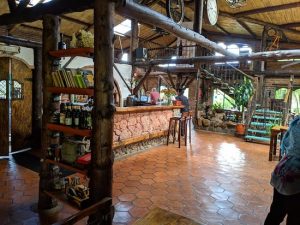 Last night, we had the pleasure of dining at one of the highest rated restaurants in Cuenca, Ecuador, La Petit Jardin, which happens to be in our neighborhood. Our friends, hosts, and landlords, introduced us to this restaurant and are friends with the owners and chef. We walked, almost a mile, uphill to the restaurant, through what many North Americans would consider a shady neighborhood, passing abandoned buildings, street dogs, and vacant lots. Undeveloped areas like this are common in Ecuador, and not to be feared. Eventually we turn onto a dirt road offering the same but with one beautiful huge house (casa) behind a fence. One more turn onto another single lane dirt road, and we reach La Petit Jardin, situated in a beautiful house with gardens and a llama hanging out in the field nearby. It is in the most unlikely location you would ever expect such a fine restaurant to be in, but it works.
We arrive, the front door opens, and we are greeted by one of the owners. The restaurant is empty and it looks like we are the first guests for the evening. They only open Saturday and Sunday. The rest of the week, the chef and owner, Giovanni, is shopping for ingredients for the next week, and spending time with his family. Their residence is next door.
The Food
We are seated, given our menus, which offer a limited but delectable looking selection of Entrees, Appetizers, and drinks. After polishing off two appetizers, we order four different meals between us. Trout, short ribs, a shrimp dish, and a chicken dish. Wow! They were all beautifully presented, and perfectly cooked. I had the short ribs, which melted in my mouth. Our friend Lucy had the trout and offered me a taste. I think it was the best trout I have ever tasted. I didn't try the chicken or shrimp but was told they were exquisite also. We finished the meals with a bowl of ice cream, called helados here. The ice cream was home made with local fruit. DELICIOUS!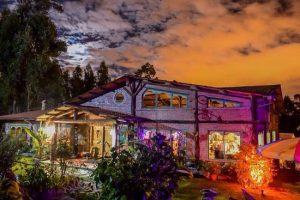 The Bill
Then, the big shock, the bill! Four entrees, two appetizers, two Mojitas with Cuban Havana rum, one craft beer, and one desert. $54.00. We just had the most incredible dinner for four, for $54.00. My jaw nearly dropped. No where in the United States would you find a meal of this quality for that low of a price. My kudos to Giovanni for being able to offer such a fine meal for so affordable a price. That makes it easy to go out to a fine restaurant more often.
We pay our bill, and say goodbye to Giovanni and his wife. As we are leaving he says to me, "we are neighbors now, so we will see you again." He was exactly right, he will.
Please follow and like us: