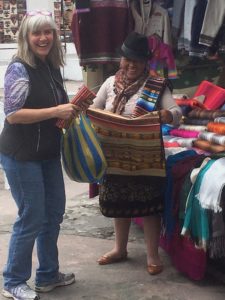 Otavalo, Ecuador is a city 2 hours north of Quito. A 15-minute bus ride south from Cotacachi makes for easy access to the city. Here is a link for more information about this area: https://wikitravel.org/en/Otavalo
For 35 cents, five of us took the decorated, painted and curtained bus from Cotacachi to Otavalo one cloudy day. We wanted to see the famous Otavalo market on a slow day, to avoid the weekend crowds. Here is the official tourism video for the city of Otavalo: Otavalo Tourism Video
I wore my Scotte vest with zippered interior pockets, to thwart any pickpockets in the crowd. It turned out to be a good thing we all packed rain gear! Rain arrived after just a few hours.
Otavalo
The bus ride to Otavalo took us along a winding road through canyons and up mountainsides with waterfalls. The scenery was beautiful!! We saw signs for Parque Condor (Condor Park), a raptor rehabilitation center, featuring condors, owls, eagles, hawks and other birds of prey. Our traveling companions told us about how much they loved their visit there. They declared that it's breathtaking to watch these massive raptors – especially the South American Condors spread their wings and fly over the crowd. Only Spanish is spoken in Parque Condor, so visitors benefit more if they understand enough Spanish to absorb the information.
That got us talking about other interesting towns or sights nearby. Our traveling buddies told us about a town near Otavalo called Peguche. That town specializes in woodcarving and weaving. There are demonstrations of people spinning and dying yarns from alpaca or llama wool, then weaving it. I've seen some spectacular weavings and carved wood around here, and would love to visit the town where they're done. My favorite was a hand mirror with intricate flowers carved all around it.
A ten-minute walk from the bus station through the city streets got our little group to the market or Mercado. The market booths are manned by indigenous Otavalos (that's the name of their people). As an artist, I find them to be exquisitely beautiful people and wish I could draw them all. Anybody who lives in Otavalo is called an Otavaleño. We saw that there are three distinct categories of merchandise: items made in China with "Ecuador" stamped on it, Ecuadorian machine-manufactured items, and locally handcrafted items.
I knew better than to try buying anything right away. Before coming to Ecuador, Gary and I had watched YouTube videos on how to barter. Our friends here gave me suggestions on how to manage the bartering that's expected. After being advised to talk the vendors down 40%, I felt reasonably equipped to go shopping.
What I really enjoyed was getting past the sales pitch and into a personal conversation with the indigenous vendors. When I began chatting, they dropped their sales persona and we had some good laughter and conversation together.
Colors lit up the entire market. Everywhere I looked, the brightest colors in beautiful combinations adorned the paintings as well as the clothing. Alpaca blankets, scarves & shawls, plus cotton hats, bags, belts, clothing, and headbands were abundant. The colors were delicious, with intricate designs and soft textures that were nearly irresistible. It impressed me to see how they could take brilliant colors and weave them with similar colors to create a bright but muted combination. I really struggled to resist buying little-stuffed llamas, guinea pigs and bunnies made from puffs of alpaca fur! One man was selling quartz crystals and lapis lazuli stones and jewelry. There was much that I would have loved to buy from him, but he asked top dollar for it all. He had several crystals that I wanted. I tried talking him down to a reasonable price, but my bartering skills were no match for his. They are sharp business people, and prefer to charge the highest prices to gringos whom they feel can afford it.
When the rain came, we had to take what we'd already decided on, and leave. Gary and I bought a small sumptuous alpaca blanket for ourselves, and several alpaca scarves for gifts. No crystals, no alpaca bunnies.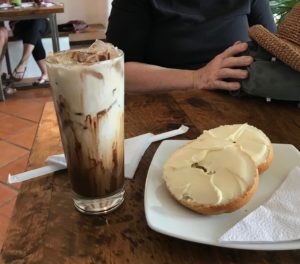 Lunch beckoned next. My friend that we're staying with had a favorite restaurant in Otavalo. She took us
to La Cosecha Coffee Cafe & Bakery, right across the street from the market. She declared that they have the cleanest public bathroom in Otavalo – worth knowing for any tourists! We had a wonderful lunch of sandwiches on focaccia bread and "chocolate caliente" made from incredible Ecuadorian chocolate. They also made smoothies and fresh juices. The decor in La Cosecha was beautiful and very Ecuadorian-looking. The ambiance was as nice as the good.
We had planned to visit a lake at the foot of Imbabura volcano. None of us wanted to continue getting soaked by rain, though, so we headed back to the bus and went home. Another day, we will return to Otavalo again.
Please follow and like us: