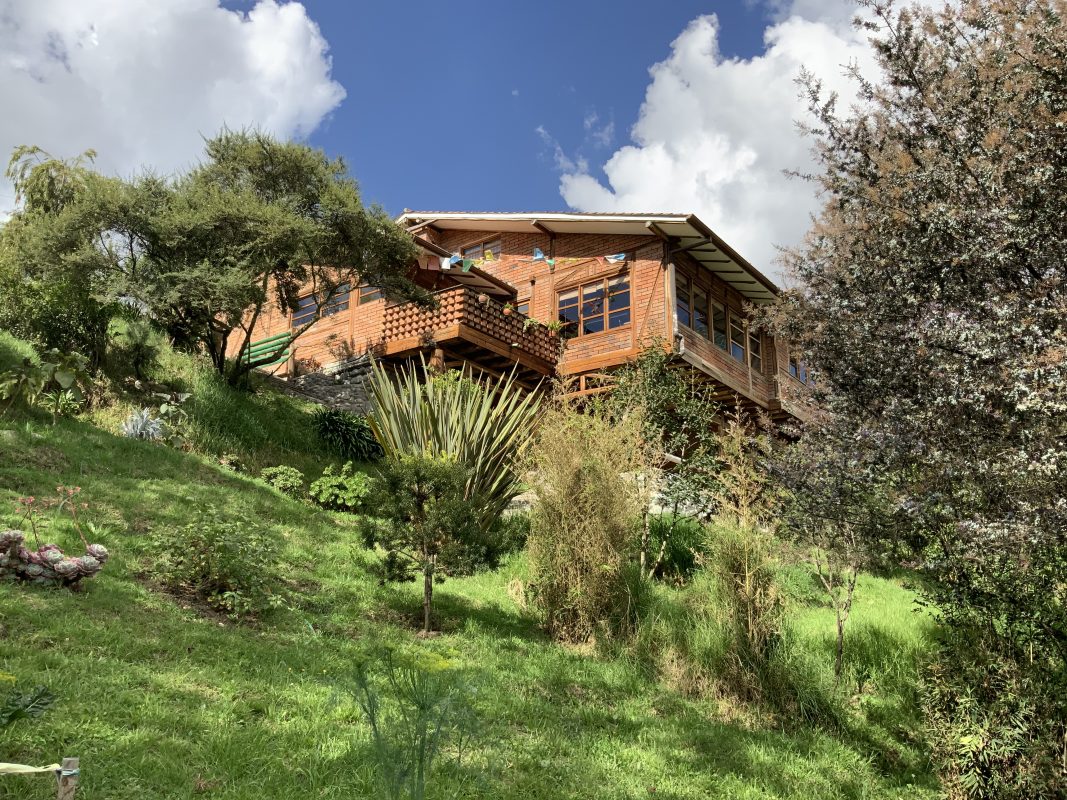 In the evening of April 6, 2019, we arrived at our new home in Cuenca, Ecuador. Traveling for 9 solid days had sapped all our strength and enthusiasm. Relief flooded our beings as we stepped onto the grass of our Ecuadorian house's lawn. Home at last! This house had been posted on Facebook, so we had never seen it in person. it was far bigger and prettier than it seemed online. It had a big yard with flowers, fruit trees and veggie garden. The whole lot was perched on a steep hillside, overlooking the city and a range of mountains. The animals sniffed and explored every inch of the place. It felt like an oasis we could replenish within.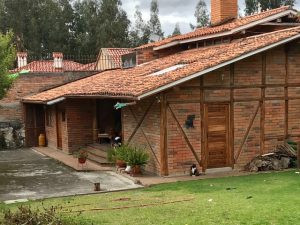 The view of the sunrise from our hilltop house was stunning! It was the first time of many many many future times that we photographed the sunrise over the landscape. Mountains filled our living room's wall of windows. El Cajas is the wilderness park covering the mountains. Morning mists gave way to dramatic cloud sculptures that gradually thinned, leaving us with a sky of deep blue.
The owners were away for a vacation. They had invited us to stay in the house when we arrived, and we would all share the house for a week when they returned from their trip. It was good to have a couple days to rest and unwind from the arduous journey. When they returned, it went beautifully. We'd never met before, yet a nice friendship quickly developed. We discovered much in common. They took us to their Buddhist meditation gathering, and showed us hiking spots and the best mercados. Apparently we had slid right into the place where we were meant to be.
Our first week was spent largely resting, with the animals always at our sides. At an altitude of 8,500 feet, our bodies required a lot of adjusting. The dog and cat too. At first we napped twice every day. Any exertion required an immediate nap. We knew to drink a lot more water than usual. Still, it was a few weeks before we could get by on just one nap per day.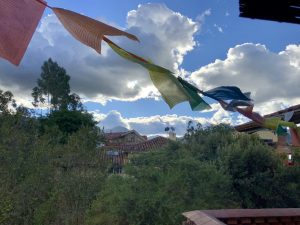 Our wondrous, helpful facilitator, Tina, helped us complete the process of getting our cédulas. This required three more days of cab rides and visits to multiple offices. First we took the papers we got in Quito to an office in Cuenca. They told us we had to go to another office in the town of Azogues, which was a 45 minute drive away. We hired a recommended local driver, Nestor, and were so glad we did. He was knowledgeable, familiar with both cities and was a safe driver. He spoke English very well, so he was a big help with translating. In Azogues, we waited and waited and met with people who told us to walk to their bank and deposit $10 into their account and return with the receipt. There were a few hitches in the process, so we had to return the next day with Nestor. Thankfully, he was available to drive us again. When that was complete, he drove us back to Cuenca to another office. After much waiting, we had our photos taken at last received our cédulas! By that time Gary and I, Tina and Nestor were all starving and drained.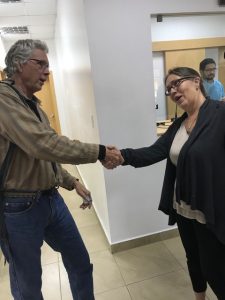 In the course of doing all of this, we caught the usual stomach bugs. Our digestive systems are not accustomed to the microorganisms that live in the water here. It's best to avoid local food and water for a little while, while our systems adjust. Gary and I spent the next two weeks struggling with digestive distress off and on. We brought with us a powerful herbal tincture for digestion, which helped. We explored the city and explored the countryside near our rural house during the next weeks. But our digestive troubles necessitated short excursions.
Thus passed our first month: in a whirlwind of activity and illness, punctuated by naps and long hours spent wandering in the heavenly beautiful garden to ground ourselves into our new locale.